Filmholders.com
Large Format Camera Equipment Click here to see animation!

Welcome to AWB Enterprises Homepage

---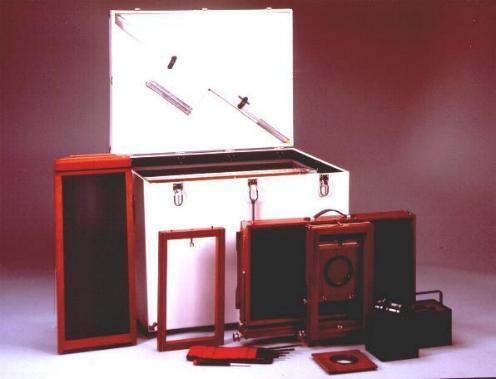 ---

This is the best in equipment for the large-format photographer. We specialize in custom wooden filmholders, in the Folmer/Schwing and the Korona style, custom contact printing frames, ABS camera & filmholder cases, the Wind Stabilizer kit, refinishing & repairing old and new filmholders and cameras. Our prices are competitive to other custom businesses in this field, and we guarantee and service our products for up to a year. Also, we service repairs on other manufactured products that are not ours, old and new, for up to 6 months. We want our customers to be able to take that perfect shot with good equipment. Try us out! And thank you for visiting our web site!

---
DIRECTORY
---
Introduction To AWB Enterprises...

In Alan W. Brubaker's life, God has given him the opportunity in the industry of designing wood and plastic fabrications for over 20 years. Designing and fabricating large format camera equipment in just 5 years. Precision woodworking is the name of the game when applied to the large format photographic world. Photographers have been very appreciative of his workmanship and quality. The ease of use of the filmholder, and sliding into their camera and locking into place, is best described by our customer's letters. Our other products are made with the best in materials, so you get the best in quality. Most all of our products are custom made and take time to create.
Everything is particularly designed and well thought of for the professional as well as the amateur. Alan establishes a personal working relationship with the client, to ensure the client the best possible service for his or her needs. This is a custom light-manufacturing shop, in which, precision, quality, and service is first in mind.

We do repair and refinishing work of your camera, filmholders and equipment.

Making ideas come to life in woodworking is an AWB trait also. In making custom frames
for those photographs you took with your view camera, and in the wood you have chosen. Easels, to display your LF pictures on the table or on the floor. Custom wood or plastic presentations to meet your business obligations.

Film tubes are another way develope your film. Display acrylic icecubes will not melt, and stands for that unique photographic presentation in the field of advertisement. And, especially for those special occasions, for family, friends, or at the office, like the. You will not see anything like this in the market place. These are all custom designs, with a touch of class.
Cordura filmholder cases are our newest product line for the photographer to take into the field. They are light-weight and come with a zipper for easy opening and closing. ABS cases are rigid and heavier and are good for the cameras. But, the cordura cases also have 1" of foam all around to help protect the holders. And, instead of a handle, a nylon strap which stretches out, can be carried on the shoulder or as a back-pack harness.
Go to our link page and see who is in our line of business.
*If you would like to buy a product that you see on this website, please email me for the correct price of the product you are looking for, and the quantity. You can use your credit card or use a check by just clicking on the PayPal button below, if you know the total cost of the items you have made, plus shipping & insurance after your email conversation with me. And, because this is a custom business, products (if NOT in stock), will have to be made to order. Making these film holders take a considerable amount of time to build, as per the filmholder page.
Thank you!

---


Contact Information...
E-mail: awbent@filmholders.com
33320 Gafford Road
Wildomar, California 92595
Tel/Fax: (909) 674-0466
Home | Filmholders | CPF | Cases | R & R | Wind SK | Plastics | Letters | Links | Cordura Cases